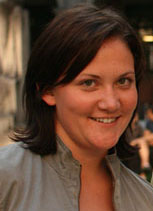 Mag. Maria Schreiber (*1983)
ICONICOM Research Assistant

maria.schreiber@univie.ac.at
https://twitter.com/perceptionalize
Current Project (funded as DOC-team by Österreichische Akademie der Wissenschaften):
http://bildpraktiken.wordpress.com/
Research Interests
everyday media practices, media cultures, visual studies, reconstructive and interpretative social research, media and sexuality
CV
Maria Schreiber graduated from university in 2007 with a diploma degree in communication research. Her diploma thesis "Female sexuality and media" (2006, Unveröff. Diplomarbeit Uni Wien) focuses on generation specific mediapractices regarding sexuality. After two years of professional experience in corporate communications she now supports ICONICOM as research assistant. In her PHD-project, she focuses on "Pictorial practices in a digital age".
* Scholarship of International Research Center for Cultural Studies (IFK Vienna) for IFK summer school "Kulturen der Wahrnehmung", Section "Sprache und Wahrnehmung". August 2010
* Paper presentation "Can the logic of images be helpful in empirical research" with Aglaja Przyborski. IVSA conference, University of British Columbia, Vancouver, Canada. July 2011
* Paper presentation "What if I had never seen that on TV". BSSN Annual Conference, University of Brighton, Britain. September 2011
* Paper presentation "Being Badass. Photography as a Playground". ECREA Workshop Digital Cultures, Barcelona, Spain. November 2011.
* Paper presentation "Hybrid Habitus. Reconstructing Pictorial Practices in a digital age". Beyond Representation, Southbank University, London, Britain. May 2012.
* Participant Summer School Institute of Qualitative and Multi-Method Research, University of Syracuse. June 2012.
* Participant Workshop "Visual Methods. Visual Cultures." (led by A. Markham, A. Waade, M. Sandbye, S. Pink). University of Aarhus. September 2012.
T: +43-1-4277-471 52
F: +43-1-4277-9 471
E-Mail